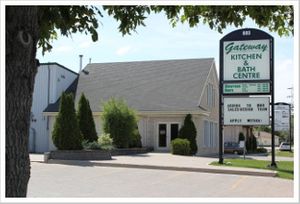 Founded in 1983, Gateway Kitchen & Bath is a family based company, which has had the pleasure of serving the needs of southern Manitoba and to as far away as Japan, for over 30 years.
Our humble beginnings took shape in a former 1,600 square-foot trucking facility where our kitchens were sold, drafted, and manufactured. Using simple equipment, our shop resembled much more the "garage-type" cabinet builder than a major manufacturer. It did not take long before it was evident more space was going to be needed, and Gateway doubled it's size two years later in 1985 by adding another 1600 sq. foot adjoined to the original building.
It was in 1992 another building was added that is now the current showroom we use. This new building was also used as a showroom, but it was much more than that. What is now just showroom housed the company lunch room, showroom, and some of the manufacturing facility.
In 1998 it became obvious that if Gateway was going to be able to efficiently build a greater volume of custom kitchens to serve its customers, a serious expansion for manufacturing capabilities was once again going to be necessary along with machinery, and some demo of old buildings. Manufacturing was moved over from one of the original buildings into an addition that was added behind the showroom of 6700 square feet. This new building was now able to house a lot more and updated machinery.
2 years later another 5800 square foot building was added and joined to the previous expansion to add manufacturing and shipping capabilities. By both adding footprint and much higher ceilings with the last 2 expansions, storage was vastly increased as well as allowing for more sophisticated dust collection systems to keep the shop floor and product clean. It has also allowed for major changes in machinery. With most machinery coming direct from Germany, shop capabilities have been expanded to further include more options and increase efficiency. Digital sanders, table saws, and planers measuring down to the thousandth of an inch, ensure accurate cabinet ingredients before we finalize the product with a hand finish. Our latest most advanced purchase was that of a CNC nesting machine to increase both capabilities and efficiency even further; always with the customer in mind.
In 2007 Gateway undertook a major renovation to better organize the showrooms and employee offices that were spread throughout the 3 floors of the building. The showroom was amalgamated into 2 floors. 2 office wings were created for designers, while engineering and other office staff went together upstairs. It was also in 2007 that Gateway renovated the current Gateway Professional Centre to update the facade, and offices next door to the location you see today.
All these changes over time have brought us from those original 1600 square feet to the 28,000 square foot location you see today. Just as kitchens have changed dramatically over this 30 year time period, Gateway is ever-evolving in an attempt to meet it's customers' needs the best they possibly can. Coming from a staff of 2, to the near 30 people we have today, our focus remains the same: bring our customers the ultimate value proposition in a full service residential service provider.
Some places you continue to see us are at the Kitchen and Bath show in January, and our annual Open House and BBQ which generally falls on the Saturday after the long weekend in early July.
Where do we go from here? Well that depends on where you would like us to go! We always enjoy feedback from our customers to help us shape our company around the needs we would like to fulfill.